Yoga Mats for Dogs, Cats ...and More Pets!
MANY SIZES. MANY COLORS.
Choose the Shape: RECTANGLE, ROUND, SQUARE

Deluxe, Extra Thick 1/4" Pet Yoga Mats
Extremely Durable, Tear Resistant & Odorless
Made From Textured, Open-Cell PVC Foam — Non-Slip & Water Resistant
Lightweight — Most Sizes are Perfect for Both Home & Travel
Dual-Textured Sides — Can be Reversible for Extended Product Life
Bunch Resistant Even on Carpeted Floors so it Stays Flat When Your Pet Lays on it
Easy to Clean
6P Phthalates Free. Latex Free. Lead Free. Heavy Metal Free. Azo Dye Free.
Unique Gift Idea for Pets
Unleash Your Dog's Inner Yogi
Dogs will find plenty of room to stretch, relax and pose on their yoga mat — just like human yogis do on their own mats. However, more than likely, your dog will use the yoga mat as a comfy place to hang out, chill out and settle in for Savasana — the ultimate relaxation pose. Plus, dogs benefit from the sponge-like quality of yoga mats as they act like cushions for their joints and give traction on slick floors.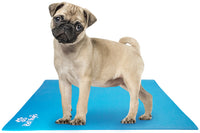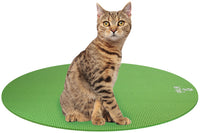 Yoga Mats for Cats
Cats may play, stretch, scratch, meditate, curl up on and take a cat nap on their yoga mat. Felines often use it as a scratchpad to sharpen their claws so there may be claw-induced damage ...but that's what it's for! And it can help save your carpet and furniture. Like dogs, many cats are naturally drawn to yoga mats and may even bring their favorite toys to it.
And For More Pets!
We also offer MINI pet yoga mats. Use it as a play mat for rabbits, ferrets, hamsters, gerbils, guinea pigs, chinchillas, rats, mice, sugar gliders, lizards, bearded dragons, iguanas, chameleons, snakes, turtles, tarantulas, hermit crabs and more! (Be sure to always supervise pet while in use and do not allow pet to chew, gnaw and/or ingest any parts.)