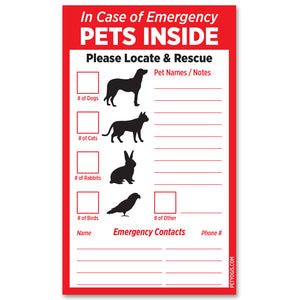 For pet parents wanting to protect their pets when they are home alone in a crisis situation 
Get peace of mind knowing emergency services will know how many and what types of animals you have in your home. Our custom, bright red, weather-resistant Pet Rescue Stickers were designed to alert emergency personnel that you have pets inside your home that need to be rescued should a catastrophic situation arise. The stickers can speak for you in the event of such an emergency.
The highly-visible sticker has space to mark how many dogs, cats, rabbits, birds, etc. you have inside your home. Plus, there is room to write the names of your pets so rescue personnel can call out for them during a search. It may be helpful to notate what floor of the home they are located on or any other important brief notes. There is also space to list your name and phone number, other emergency contacts and/or your veterinarian information. If needed, you can use some of the space to write: "If can't be reached, please take pets to (neighbor, vet, etc.)."
It is recommended to place stickers on the main entrances of your home, including on or near your front door and all exterior doors or other entry points. You could also post them on multiple windows in the event rescue personnel are not able to access your doors. Some pet owners place stickers on each side of their home. Also great for use on campers and RVs.
If you are in a dire situation (fire, hurricane, flood, extreme weather, etc.) and told to evacuate, take your pets with you. If you evacuate with your pets, cross out the sticker so others do not risk lives or spend time searching for them. In the event your pets are home alone when you have already been evacuated and unable to return, the sticker can help others to locate and rescue your pets.
You can never protect your pets too much. 
DETAILS:
• Size: 3" wide x 5" high
• 4 mil vinyl matte sticker with permanent adhesive
• Intended for outdoor use
• Weather-resistant and durable to withstand outdoor elements (scratches, water, sunlight)
• Use a permanent marker (you may need to rewrite it periodically as marker ink can fade in sun and weather)
• Designed and printed in the USA