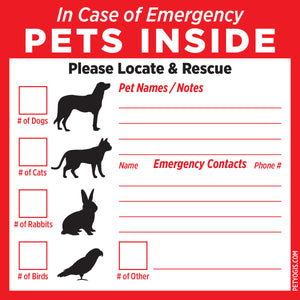 For pet owners wanting to protect pets that are home alone in an emergency situation 
Get peace of mind knowing emergency services will know how many and what types of animals you have in your home during an emergency situation. Our custom, bright red, weather-resistant, Pet Rescue Window Clings are designed to alert emergency personnel that you have pets inside your home that need to be rescued in a catastrophic situation. The window clings can speak for you in the event of such an emergency.
The window cling is designed to firmly hold to windows or any smooth glass surface without the use of adhesive - so you can peel and stick again and again. It clings to either side so you can apply it inside or outside. It has space for you to mark how many dogs, cats, birds, rabbits, reptiles, etc. you have inside your home. There is room for you to write the names of your pets so rescue personnel can call out for them to find them. You can notate what floor of the home they are located on or any other important notes. Plus, there is also space for you to list your name and phone number, other emergency contacts and/or your veterinarian information. If needed, you can use some of the space to write: "If we cannot be located, please take our pets to (our neighbor, veterinarian, etc.)."
It is recommended to place the window clings on the main entrances of your home, including on the smooth, clean, glass surface of a front door or window and all exterior doors or other entry points with smooth, clean, glass surfaces. You can also post them on multiple windows in the event rescue personnel are not able to access your doors. Some pet owners place window clings on each side of their home.
If you are in a dire situation and told to evacuate, take your pets with you. When you leave with your pets, remove the window cling so others do not spend time searching for them. In the event your pets are home alone during an emergency event and you are not allowed back in your home, the window cling can help others to locate and rescue your pets.
Give one to your family, friends and neighbors who are pet parents. Great for fundraising for rescue, shelter and adoption organizations.
DETAILS:
• Size: 4" wide x 4" high
• Made using premium white vinyl
• Designed to be placed inside or outside your home (or business) on a smooth, clean, glass window - so the window cling faces out
• Stays on glass without permanent adhesive; moveable ...great for renters and second homeowners
• Use a Sharpie marker (you may need to rewrite it annually as the marker ink can fade in sun and weather)
• Made in the USA